20 YEARS OF TASTE, GOOD IDEAS AND EFFICIENCY.
Tasty and soft, the crepe reminds our taste buds of a sweet childhood scent.
Salted or sweet, enhanced with the most varied ingredients, adapting to the tastes and culture of each region or each country, it has achieved unmistakable success both in France and abroad.
It was 20 years ago that André Sala, a passionate inventor of the crepe, created Crêpes de France to meet, with innovative turnkey concepts, the expectations of professional customers, always more numerous to launch into the trade of The crepe.
Its goal: to offer specially thought-out material designed to simplify the work of crepe makers, solve hygiene and dirt problems, and maximize productivity.
Among the inventions of Crêpes de France: the refrigerated crêpes® batter dosing dispenser, a patented model, which has won many awards, enables production to be optimized and controlled while being assured of respecting hygiene and cold standards.
It fits on all our models of crepe trolleys, built-in countertops and professional crepe makers.
In addition to the high-performance equipment, Crêpes de France offers a tasty crepe dough preparation, created from an exclusive recipe and respecting the traditional ingredients of the crepe dough.
This preparation has also revolutionized the work of pancake makers, ensuring their performance and practicality, and guaranteeing the flavor and softness of our grandmothers' crepes.
Breathe new life into essential values
April 2014, a page turns, a chapter opens for the sustainability and future of Crêpes de France.
A new lease of life and a new organization set objectives, set course for France and internationally to hold the bar of innovation.
Franck Metral, new manager and Guy Metral, administrator, have taken over the Crêpes de France activity by creating SARL PLANET CONCEPT PRODUCTION.
Crêpes de France know-how and its human values take a new start.
Industrial support for sustained development
Coming from a family of industrialists since 1947, the companies RMG INDUSTRIE and SODIFRANCE ensure technical development, design, methods and innovations, logistics and quality on our new site located in the Arve Valley, in the Haute -Savoie.
We put at the service of Crêpes de France our mechanical experience and an expertise in subcontracting trades of more than 65 years.
Business development is carried out by the team in place with the help of new resources, at the new Marnaz site.
At the gates of Mont-Blanc, you can visit our show-rooom which contains all the products we sell.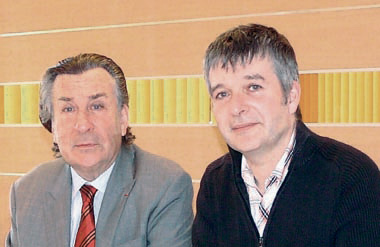 Guy METRAL, administrator and Franck METRAL, manager
DO NOT HESITATE TO CONTACT US
For any questions about our products or for any other information